The second feature that is available is Inferred Types. Inferred Types allow you to define a base type for the relationship but then derive a more specific type based on the item being mapped.
For example maybe your solutions has a series of child items that are a mixture of events, news, and blog posts: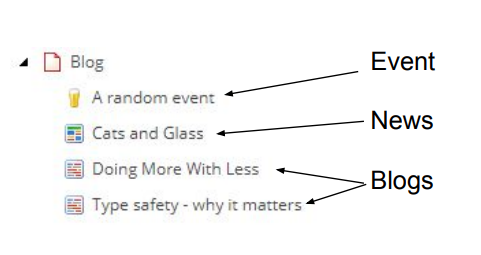 We want to retrieve these items and we want Glass.Mapper.Sc to automatically map them to a matching type, i.e. Events to an Event class, News to a News class and Blogs to a Blog class.
To achieve this we have to define a base type which for this example we have called Page. We then define our specific types (Event, News, Blog) and make them inherit from the base Page type. The class structure looks like this: